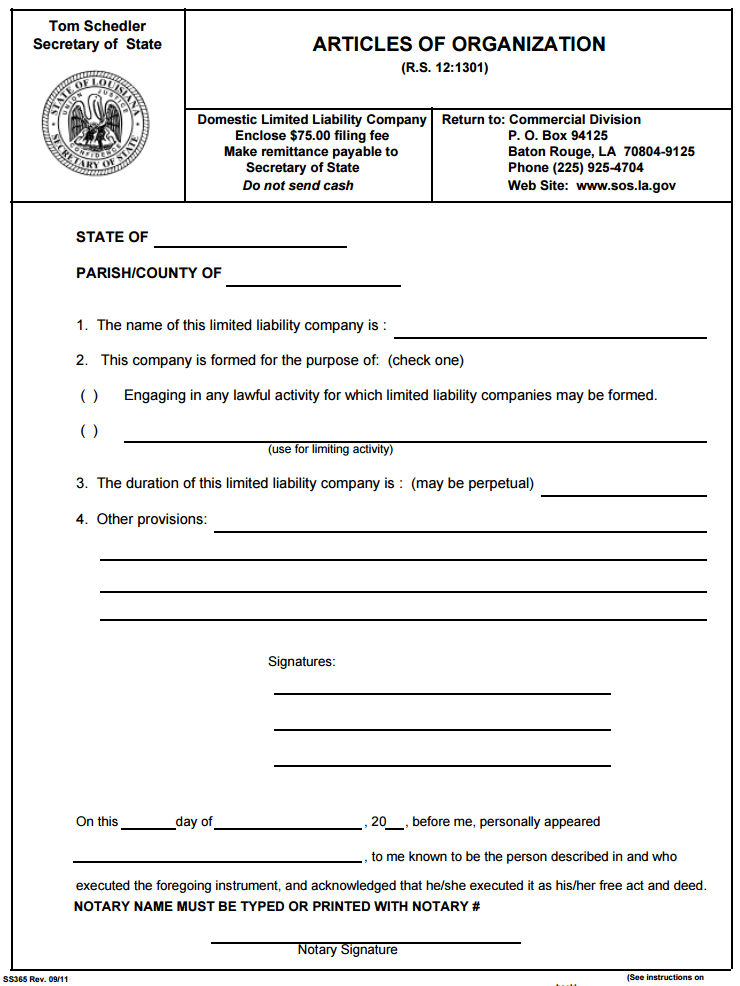 Free Louisiana (LLC) Limited Liability Company Form - PDF Form Download
0

out of

5

based on

0

reviews.
Overall rating:
As do other states in the United States of America, Louisiana also has a few laws with regards to the formation of Limited Liability Companies. This form needs to be filled and submitted to the Secretary of State, Louisiana, along with the required fees.
The form, also known as Articles of Organization must be filled along with an Initial Report (form 973) and another small form for transmittal information. A certificate of organization will be given to you when these are filed.
Steps to fill LLC Form
Write the name of the state (in this case – Louisiana). On the next line, fill in the name of the respective county/parish in which the LLC is being formed.
Fill in the desired name of the company. Keep in mind that the words 'Limited Liability Company' or 'L.L.C.' or 'L.C.' must be included in the name of the company. Also, ensure that no other company with the same or similar name is registered with the Secretary of State.
Check one of the two options with regard to the purpose of forming this company. These involve either engaging in any lawful business or any other limited activity which will need to be specified.
Specify the duration of the company being formed. Ignore this space if the company has no end date and is perpetual in nature.
Next, mention any other special provisions in detail. These provisions could be anything with regard to the regulation and functioning of the internal affairs of the company.
Signatures of members of the company, along with the date on which this form is being filled. These signatures must be acknowledged before the Notary Public, along with a notary signature.
Initial Report
Again, fill in the name of the limited liability company.
Fill in the full address of the company's registered office.
Fill in the full name and addresses of the company's registered agent(s).
Fill in the full name and addresses of the company's members and/or managers.
The same signatures that were used in the Articles of Organization are needed here.
The registered agent's signature is needed. Again, this should be done before the Notary Public.
Transmittal Information
Check whether it will be a routine form submission or if you want to expedite the process. The cost of normal filing is $75, while $30 extra will be charged for expediting.
Again, fill in the company's name and full address in the respective blank spaces. Also, mention the company's phone number, fax number and email address.
All the above documents must be filled and submitted together.
Address of Secretary of State, Louisiana
By Mail
P. O. Box 94125,
Baton Rouge,
LA 70804-9125
Office Address

8585 Archives Ave.,
Baton Rouge,
LA 70809
Louisiana (LLC) Limited Liability Company Form
Form Preview
Louisiana (LLC) Limited Liability Company Form Reviews